What is ISO 9001:2015?
ISO 9001:2015 is an international standard dedicated to Quality Management Systems (QMS). It outlines a framework for improving quality and a vocabulary of understanding for any organization looking to provide products and services that consistently meet the requirements and expectations of customers and other relevant interested parties in the most efficient manner possible.i The QMS is the aggregate of all the processes, resources, assets, and cultural values that support the goal of customer satisfaction and organizational efficiency. First published in 1987, the latest iteration (ISO 9001:2015) replaces ISO 9001:2008.
ISO 9001:2015 doesn't dictate what an organization's objectives should be or how to achieve them. In other words, it doesn't tell anyone how to run their business. It's a flexible standard that allows each organization to define for itself what its objectives and adherence to the standard ought to be. ISO 9001:2015 defines the guiding principles that can be used to create efficiencies by aligning and streamlining processes throughout the organization, in an effort to bring down costs, create new opportunities, meet regulatory requirements, and help organizations expand into new markets in which clients demand ISO 9001 certification (the last of which is increasingly crucial for businesses working in or with the public sector or serving as suppliers in automotive or private OEM (Original Equipment Manufacturer) scenarios).
ISO does not perform certifictions to ISO 9001:2015. Instead, organizations engage an independent certification body to audit their QMS implementation against the ISO requirements. Organizations of any size can certify to this standard, including smaller ones with no dedicated Quality resources.
Quality Management System Certification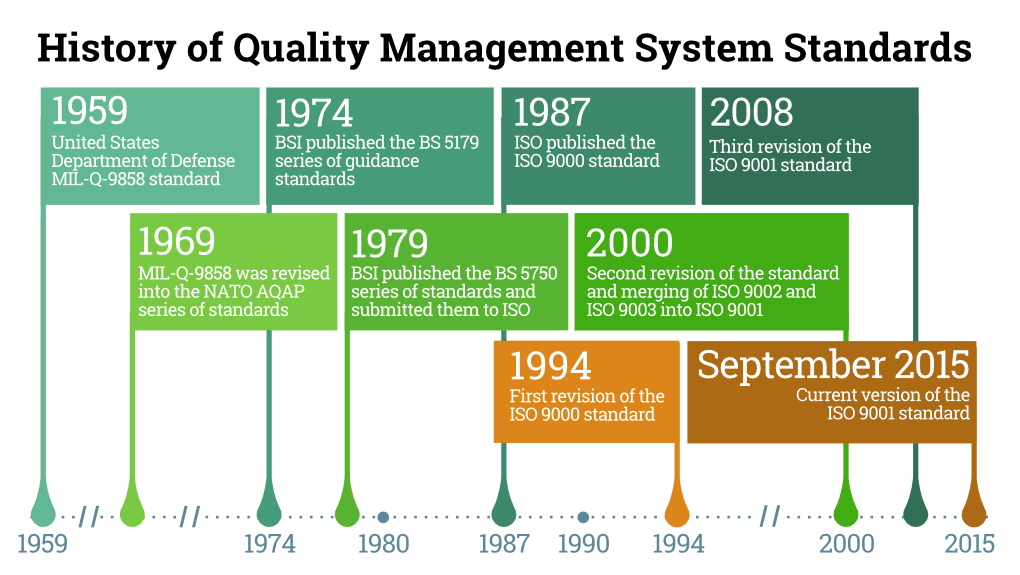 Why a new version?
ISO regularly reviews all standards to ensure they are up-to-date and continue to be relevant for the needs of organizations around the world. The last major revision of ISO 9001 was in 2008. While that might not seem like such a long time ago, the exponential increase in the availability of technology, products, and services for consumers, as well as the size and complexity of the global supply chain, have meant that ISO needed to make 9001 meet several new requirements. Customer demands on products and services, and the impact on the brand reputations of those companies that can meet them, grow each day, and ISO 9001 needed to meet these enhanced expectations.
Benefits of ISO9001
ISO 9001:2015 applies to any organization, regardless of size or industry. More than one million organizations from more than 160 countries have applied the ISO 9001 standard requirements to their quality management systems.
ISO 9001 helps organizations ensure their customers consistently receive high quality products and services, which in turn brings many benefits, including satisfied customers, management, and employees.
Because ISO 9001 specifies the requirements for an effective quality management system, organizations find that using the standard helps them:
Organize processes
Improve the efficiency of processes
Continually improve
Cost saving
What topics does ISO 9001:2015 cover?

ISO 9001 is based on the plan-do-check-act methodology and provides a process-oriented approach to documenting and reviewing the structure, responsibilities, and procedures required to achieve effective quality management in an organization. Specific sections of the standard contain information on many topics, such as:
Context of Organization planning and determining process interactions
Risk based Thinking
Leadership
Support process, including human resources and an organization's work environment
Operation, including the steps from design to delivery
Performance evaluation, and improvement of the QMS through activities like internal audits and corrective action

Leadership Participation
ISO 9001:2015 requires leadership to move from a position of supporting the QMS to participating in its success. Leadership is responsible for ensuring that the QMS remains focused on customer requirements and for establishing and communicating the overall QMS policy for the organization. Leadership also has the following requirements for demonstrating its commitment to the QMS:
Taking accountability for the effectiveness of the QMS.
Ensuring that the QMS is aligned to the context and strategy of the organization.
Integrating the QMS into the organization's existing processes.
Promoting the QMS and risk-based thinking.
Acquiring required resources for the QMS.
Communicating the importance of adhering to the QMS.
Ensuring the success of the QMS.
Supporting the staff who maintain the QMS.
Promoting continual improvement of the QMS.
Supporting leadership in other areas that support the QMS.
For the leadership of many organizations, even those certified to ISO 9001:2008 or other standards, these new responsibilities could be new territory, so Quality professionals should prepare to take on the role of introducing and teaching these principles to their leadership.

10 Strategic Qfactors
How can a modern management system support quality and strategy? What are the strategic Qfactors? How can ISO 9001 help your business to grow? Every business starts from a different position, brings its own culture, and sets its own ambitions. So where to begin? Here is my top ten list of strategic actions to implement ISO 9001.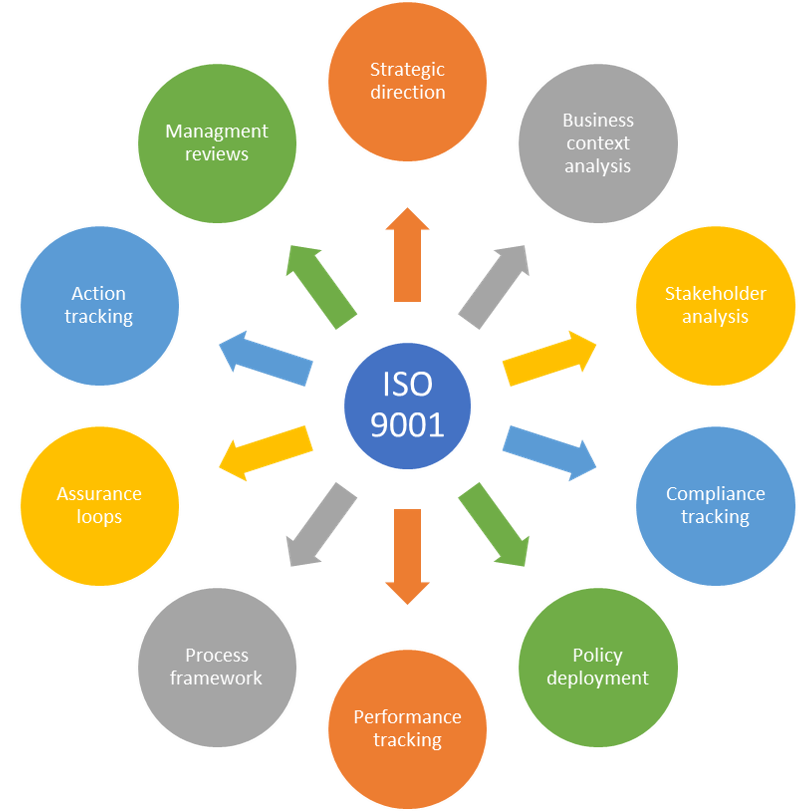 How do I get started with ISO 9001:2015?

Whether you are beginning your ISO 9001 journey or transitioning to the 2015 revision, your first step is to purchase a copy of ISO 9001:2015.
ISO 9001 CERTIFICATION

ISO 9001 is the only standard in the ISO 9000 series to which organizations can certify. Achieving ISO 9001:2015 certification means that an organization has demonstrated the following:
Follows the guidelines of the ISO 9001 standard
Fulfills its own requirements
Meets customer requirements and statutory and regulatory requirements
Maintains documentation
Certification to the ISO 9001 standard can enhance an organization's credibility by showing customers that its products and services meet expectations. In some instances or in some industries, certification is required or legally mandated.
The certification process includes implementing the requirements of ISO 9001:2015 and then completing a successful EFR audit confirming the organization meets those requirements.
EFRCert adopted globally recognized approach that's focused on continually improving your processes and managing business risks to meet the needs and expectations of your customers and other stakeholders.
Our auditor and assessors are industry specialists who are matched with your business needs to ensure we add value through an effective and robust audit of your system and by making the appropriate recommendations to improve your management system and business at the same time.
Certificate validity – Double verification
Verification 1 – EFRCert certificate include the QR Code to double check the originality and tampered free certificate.
Verification 2 – Annual certificate transcript is available in IRQAO INTERNATIONAL REGISTER OF QUALITY ASSESSED ORGANISATIONS (https://www.irqao.com/). The place to look for certification all over the world.
The profits we generate fund for our best practices research which supports science and engineering-related research, education and public engagement around everything we do. All of this helps us stand by the purpose that drives us every single day: Working together for a better world.