About ISO 45001 Occupational Health and Safety Management System
ISO 45001, Occupational Health and Safety Management Systems – Requirements with guidance for use, is an ISO standard for occupational health and safety management systems that is recognized and implemented worldwide. This standard was published in 2018 in order to replace OHSAS 18001:2007.
Before the development of a management system standard by the ISO committee, a "Justification Study" was prepared in order to present a case for the proposed project. In relation to the development of ISO 45001, user needs are identified from the following:
User demands for the requirements of management system standards to be better aligned, or to enable "integration" into their organization's management systems. This led to the development of a "High Level Structure" (often referred to as "Annex SL") which provides a common clause sequence (structure), text, terms and definitions for its management system standards. This "High Level Structure" has been applied during the development of ISO 45001.
According to the OHSAS Project Group's 2011 Survey of standards and certificates, there are now more than 90000 certificates issued in 127 countries. This fact demonstrates the need for an ISO standard for this discipline.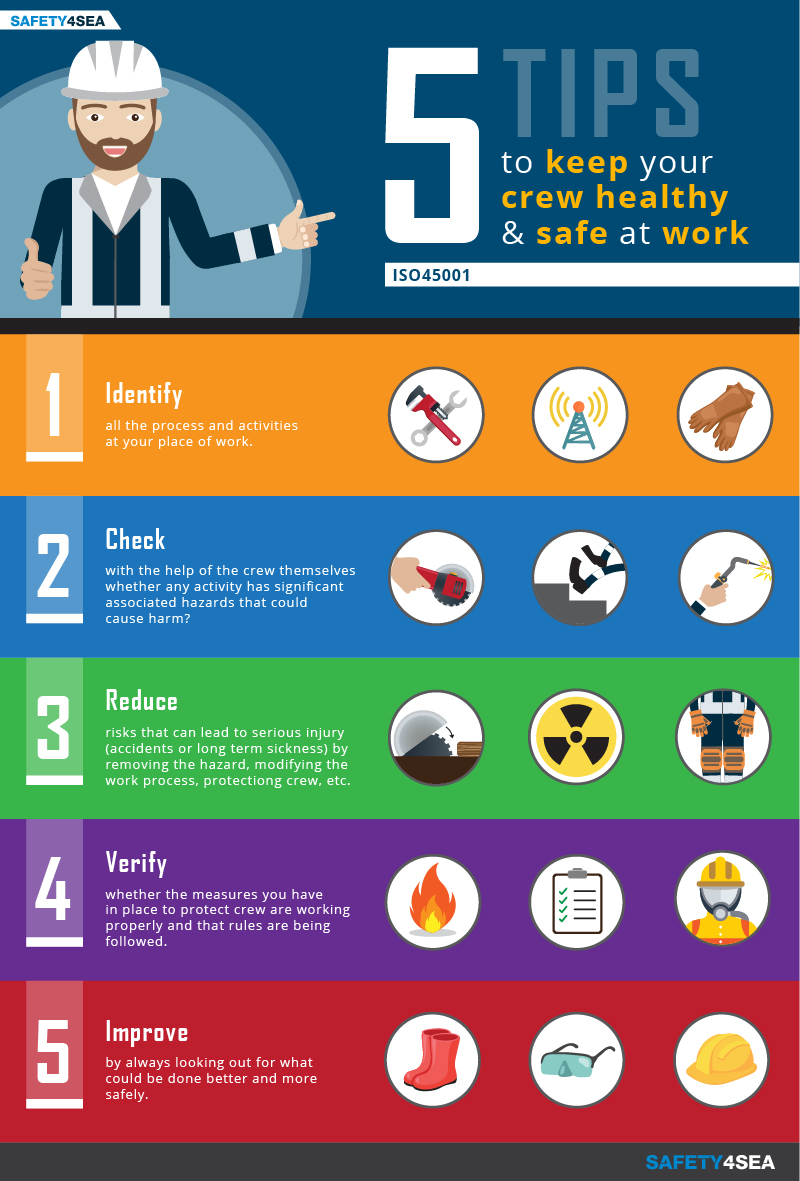 The "Justification Study" identified that ISO 45001 would need to:
enable organizations to provide safe and healthy working environments
be generic and relevant to all types and sizes of organizations, operating in any sector, and be able to accommodate diverse geographical, cultural and social conditions
be capable of being applied to the widest possible range of organizations with varying degrees of maturity of their OH&SMS
specify the essential components of an OH&SMS
enable organizations to demonstrate conformity to the requirements
enable organizations to identify, assess and control their OH&S risks and improve their OH&S performance
align with other management system standards (in particular ISO 14001 for environmental management systems).
Benefits of ISO 45001 Environmental Management Certification
An ISO 45001 based OH&S management system will enable an organisation to improve its OH&S performance by:
Developing and implementing an OH&S policy and OH&S objectives
Establishing systematic processes which consider its "context" and which take into account its risks and opportunities, and its legal and other requirements
Determining the hazards and OH&S risks associated with its activities; seeking to eliminate them, or putting in controls to minimize their potential effects
Establishing operational controls to manage its OH&S risks and its legal and other requirements
Increasing awareness of its OH&S risks
Evaluating its OH&S performance and seeking to improve it, through taking appropriate actions
Ensuring workers take an active role in OH&S matters
In combination, these measures will ensure that an organisation's reputation as a safe place to work will be promoted, and can have more direct benefits, such as:
Improving its ability to respond to regulatory compliance issues
Reducing the overall costs of incidents
Reducing downtime and the costs of disruption to operations
Reducing the cost of insurance premiums
Reducing absenteeism and employee turnover rates
Recognition for having achieved an international benchmark (which may in turn influence customers who are concerned about their social responsibilities)
Getting to the heart of why ISO 45001 is important
Mitigating occupational health and safety hazards and preventing injuries in the workplace is one of the most important challenges that companies face. Among the biggest benefits of implementing an OH&SMS is enhancement of company's public image that comes with being ISO 45001 certified. Being certified against ISO 45001 demonstrates that your company belongs among those businesses that cares for its employees' health and safety. This can bring better relationships with customers, the public, and the community, but it also brings other benefits.
Along with the good public image, many companies can save money through the implementation of an Occupational Health & Safety Management System. This can be achieved through reducing incidents resulting in injuries and being able to obtain insurance at a more reasonable cost. This improvement in cost control is a benefit that cannot be overlooked when you're making the decision to implement an OH&SMS.
A healthier and safer workforce
ISO 45001 aims to reduce work related incidents, and focuses on creating a health and safety culture, whereby employees are encouraged to take an active role in their own OHS. This underpinned by strong leadership with demonstrable commitment to OHS – helps to create a safety culture, resulting in reduced staff turnover, increased morale and improved staff retention rates – as well as making their work environment both safer and healthier.
Maximise productivity
ISO 45001 helps your organisation understand risk profiles through a systematic process to keep your workforce healthy and safe, thereby reducing absenteeism and staff turnover, leading to increased productivity.
Compliance and a commitment to excellence
ISO 45001 provides a clear framework to manage your regulatory and legal obligations. Implementing a robust OH&S management system can help to deliver stakeholder confidence, thereby improving your brand reputation and providing a competitive advantage when bidding for contracts.
Simple integration
ISO 45001 easily integrates with all new and revised ISO managements system standards, such as ISO 9001 and ISO 14001, as it shares the same high-level text and common structure.
Need help with ISO 45001?
ISO 45001 is suitable for organisations of any size, sector or location. Whether you have an established health and safety management system that you want to migrate to ISO 45001 or if you are implementing a system for the first time, we recognise that every organisation and its OH&S management system is unique. With over 20 years' experience in training, gap analysis, assessment and certification, we'll work with you to ensure you get the right support.
Value added auditing
EFRCert adopted globally recognized approach that's focused on continually improving your processes and managing business risks to meet the needs and expectations of your customers and other stakeholders.
Our auditor and assessors are industry specialists who are matched with your business needs to ensure we add value through an effective and robust audit of your system and by making the appropriate recommendations to improve your management system and business at the same time.
Certificate validity – Double verification
Verification 1 – EFRCert certificate include the QR Code to double check the originality and tampered free certificate.
Verification 2 – Annual certificate transcript is available in IRQAO INTERNATIONAL REGISTER OF QUALITY ASSESSED ORGANISATIONS (https://www.irqao.com/). The place to look for certification all over the world.
Research and Development
The profits we generate fund for our best practices research which supports science and engineering-related research, education and public engagement around everything we do. All of this helps us stand by the purpose that drives us every single day: Working together for a better world.